E-Lumen X ColorTouch Light Control Box
For E-Lumen X Series Underwater Lights
E-Lumen X ColorTouch Light Control Box
For E-Lumen X Series Underwater Lights
ColorTouch control box not only supports all E- Lumen X series lamp with direct color change and brightness adjustment, but also supports E-lumen ON/OFF switch type for changing lamp color.
Provides direct light color change and two zones synchronized color control.
By using the existing two-core wires and 12Vac power system. ColorTouch becomes an ideal choice for most pool retrofit and refurbishment projects.
Waterproof Standard IP44.
The hand-held remote-controller which is compact, user-friendly and water resist. It operates up to 50m in open area.
One-touch light effect selection feature though remote-controller: 7 different colors, auto-color changing, and 3 brightness level selection.
(Wi-Fi version only)
Wi-Fi version provides all control features as remote controller over smartphone though Apps.
Easy to use – Connect Wi-Fi, open Colortouch Apps (Android only) and use.
The Apps can show current color controlling by Colortouch on your smartphone.
SYNCHRONIZE COLOR SETTINGS OF 2 ZONES BY COLORTOUCH CONTROL SYSTEM
ColorTouch control system can control different modes of lighting in two separate zones at the same time.
Each zone can support pool light fixture upto 300VA.
Simple one-touch button can instantly synchronize both zones.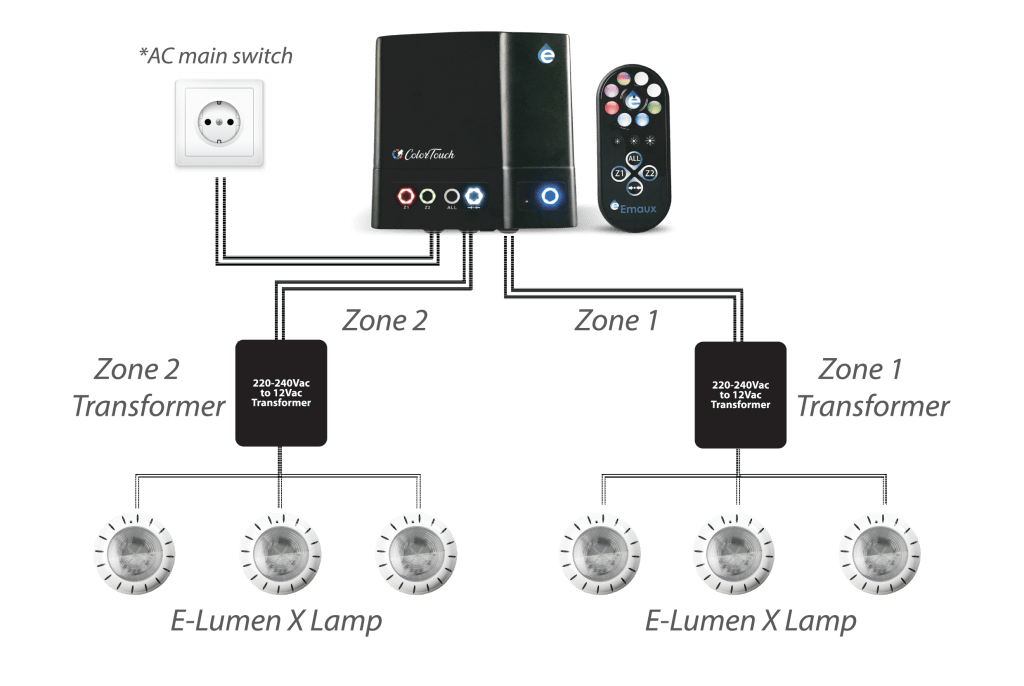 E-Lumen X Series ColorTouch Light Control Box (WiFi) Brochure (English) 

E-lumen X Series ColorTouch light Control Box (WiFi) User Manual (English)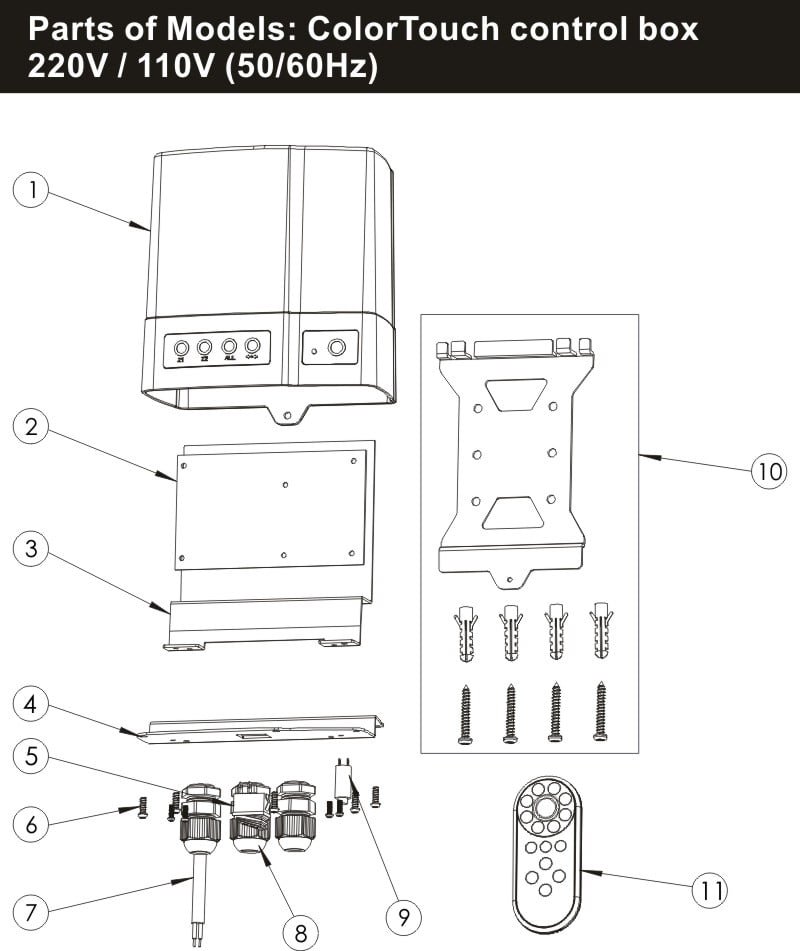 | Key No. | Part No. | Description | | Piece(s) Required |
| --- | --- | --- | --- | --- |
| 1 | E111101 | ColorTouch Control Box suite | | 1 |
| 2 | E111107 | ColorTouch electronic board 220V suite | | 1 |
| 2 | E111108 | ColorTouch electronic board 110V suite | | 1 |
| 3 | 510106781 | Internal Plate | | 1 |
| 4 | 510116781 | Bottom Plate | | 1 |
| 5 | 106176996 | Power Switch | | 1 |
| 6 | E111102 | Screw Suite | | 1 |
| 7 | 4013004 | Two-Core cable for output | | 2 |
| 7 | 105101306 | Three-Core cable for input | | 1 |
| 8 | 106231416 | PG11 Cable Lock | | 1 |
| 9 | E111106 | Switch for Learn Key | | 1 |
| 10 | E111103 | Mounting Bracket Suite | | 1 |
| 11 | 106697000 | Remote(With Battery) | | 1 |