Nano Tech UV-C Disinfection System
For above-ground and residential pools water disinfection
For residential and semi-commercial pools
These UV systems combine all the benefits listed above in a very compact design. Another advantage is that the lamps are single ended and can be easily replaced.
Crystal clear disinfected water.
Protects your pool against pathogenic organism and algae.

316L stainless steel housing, with mirror polished interior.
Environmental friendly
4 models of Nano Tech Series:
1. USER-FRIENDLY
Easy installation and maintenance. The optional timer can control the running operation hours
2. STRONG AND DURABLE
Robust housing in AISI 316 Stainless Steel for anti- corrosion long life. Professional quality UV lamp offers a life time over 9,000 ( to 12,000) hours.
3. HIGH EFFICIENCY
The mirror-polished interior of the housing increases the UV reflection rate and thus enhances the work efficiency by up to 35%.
4. HIGH TRANSMISSION
High-quality quartz sleeve ensures nearly 100% transmission of UV-C at 254nm. It offers protection against air and water flow, breakage, and temperature fluctuations.
5. ENVIRONMENTAL-FRIENDLY
It reduces the chlorine consumption of up to 70%. Also water renewal is reduced due to fewer by-products formed.
6. BETTER PROTECTION
The disinfected water is free of unpleasant smells and does not irritate the eyes, because of the significant reduction the number of chloramines. No risk of allergies, and your pool is protected against pathogenic organisms and algae.
Advantages of using UV-C for water disinfection
At a wavelength of 253.7nm, UV-C light is a very powerful germicide. It deactivates the DNA of bacteria, viruses and other pathogens, destroying their ability to multiply and cause disease.
Ultraviolet technology is a non-chemical approach to pool disinfection. In this method of disinfection, nothing is added which makes this process simple, inexpensive and requiring very low maintenance.
UV-C light is become increasingly favoured by the pool industry for its ability to break down and remove chloramines, which cause eye, skin and nose irritation, and breathing difficulties.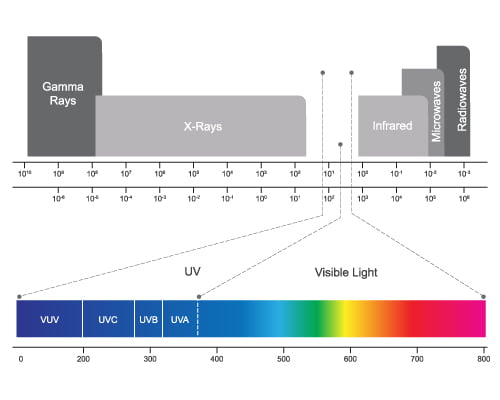 Nano Tech UV-C Disinfection System User Manual (English)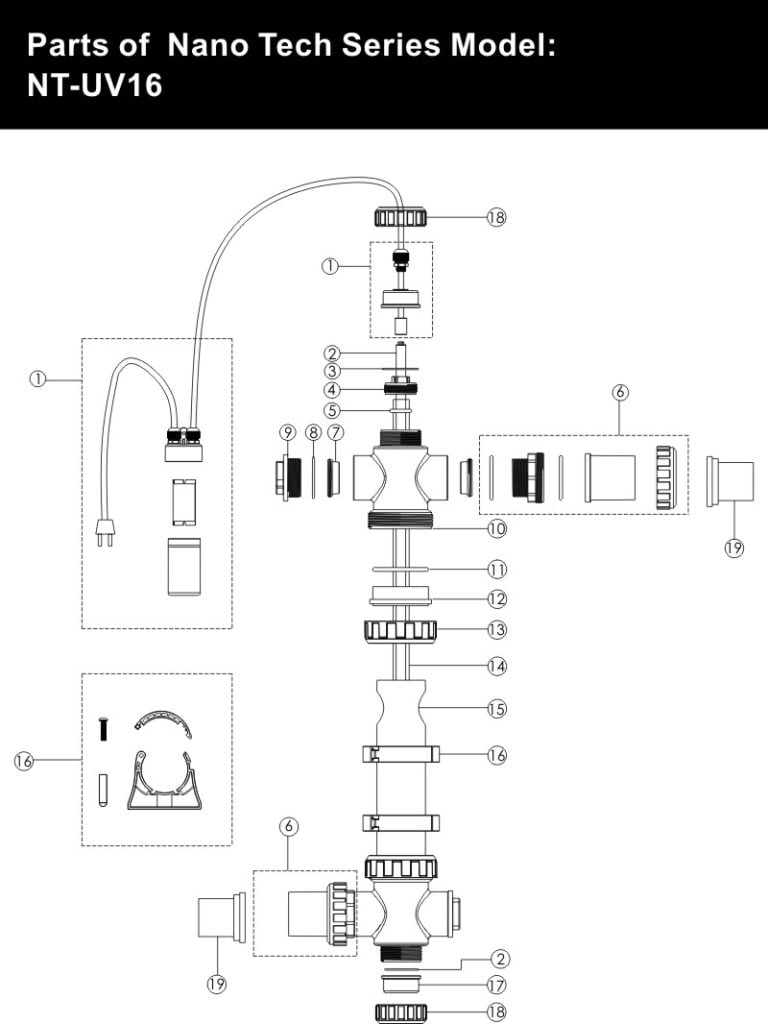 | Key No. | Part No. | Description | Piece(s) Required |
| --- | --- | --- | --- |
| 1 | E130405 | UV16 Ballst and lamp connection | 1 |
| 2 | E130425 | 16W UV lamp | 1 |
| 3 | 111040015 | Lamp connector O'ring | 2 |
| 4 | 440422251 | 25 lamp adaptor | 2 |
| 5 | 111030021 | Quaatz O'ring(d24.8X?5.2) | 2 |
| 6 | E190201 | Pipe connection 2? | 2 |
| 7 | 620125430 | Adaptor | 4 |
| 8 | 111142482 | UV body O'ring | 2 |
| 9 | 430221017 | Transpar lid | 2 |
| 10 | 620062251 | 25Cross | 2 |
| 11 | 111202472 | Quaatz O'ring(D76*?6) | 2 |
| 12 | 620165430 | Body connection | 2 |
| 13 | 430170986 | Union Nut | 2 |
| 14 | E130433 | 16W Quartz Tube D25x485mm | 1 |
| 15 | 107175310 | Stainless Stell body | 1 |
| 16 | E130404 | Closed pipe clips | 2 |
| 17 | 620135460 | Cap | 1 |
| 18 | 430170635 | Union Nut 1.5? | 2 |
| 19 | 430300943 | 1.5" union (Imperial/Metric) | 2 |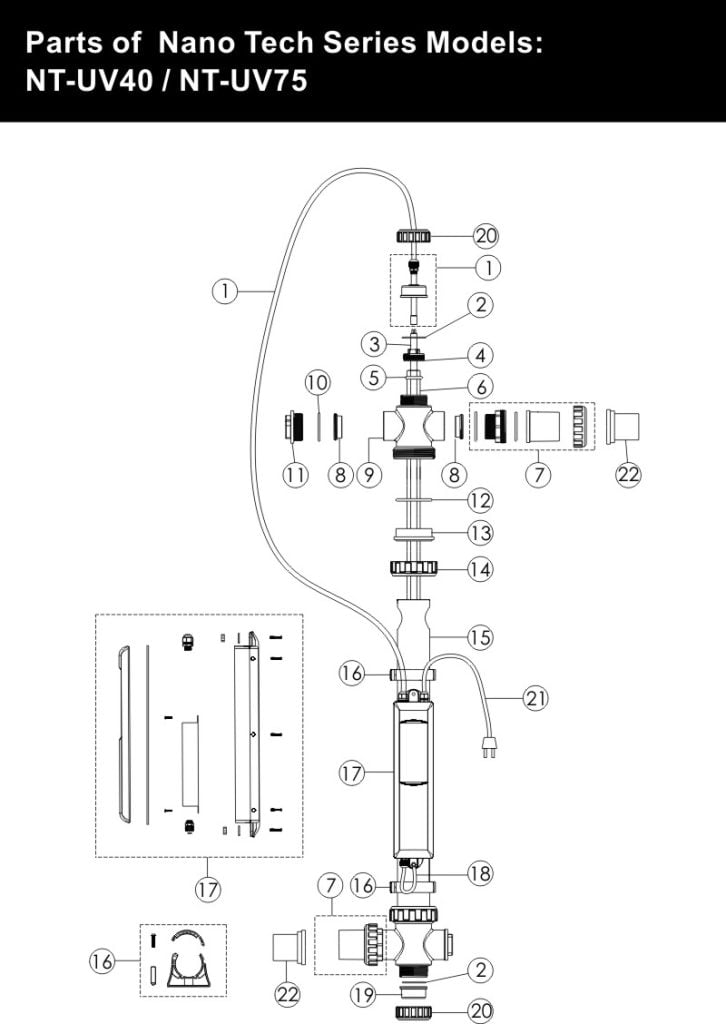 | Key No. | Part No. | Description | Piece(s) Required |
| --- | --- | --- | --- |
| 1 | E130423 | End Cap for Cable Hole With Expoxy | 1 |
| 2 | 111040015 | Lamp connector O'ring | 2 |
| 3 | E130426 | 40W UV lamp | 1 |
| 3 | E130427 | 75W UV lamp | 1 |
| 4 | 440422251 | 25 lamp adaptor | 2 |
| 5 | 111030021 | Quaatz O'ring(d24.8X?5.2) | 2 |
| 6 | E130432 | Quartz Tube for 45W/70W | 1 |
| 7 | E190201 | Pipe connection 2? | 2 |
| 8 | 620125430 | Adaptor | 4 |
| 9 | 620062251 | 25Cross | 2 |
| 10 | 111142482 | Connector O'ring | 2 |
| 11 | 430221017 | Transpar lid | 2 |
| 12 | 111202472 | UV body O'ring(D76*?6) | 2 |
| 13 | 620165430 | Body connection | 2 |
| 14 | 430170986 | Union Nut | 2 |
| 15 | 620145462 | Stainless Stell body | 1 |
| 16 | E130404 | Closed pipe clips | 2 |
| 17 | E130408 | UV40 ballast | 1 |
| 17 | E130409 | UV75 ballast | 1 |
| 18 | E130407 | Earth Connexion | 1 |
| 19 | 620135460 | Cap | 1 |
| 20 | 430170635 | Union Nut 1.5? | 2 |
| 21 | 105021259 | Plug lead | 1 |
| 22 | 430300943 | 1.5" union (Imperial/Metric) | 2 |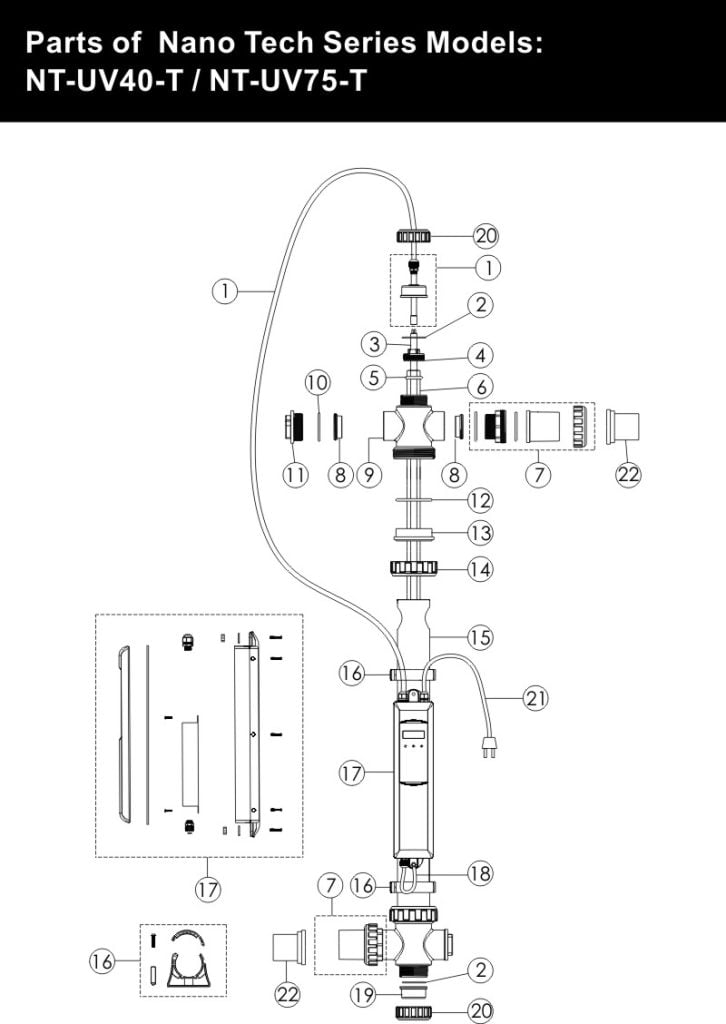 | Key No. | Part No. | Description | Piece(s) Required |
| --- | --- | --- | --- |
| 1 | E130423 | End Cap for Cable Hole With Expoxy | 1 |
| 2 | 111040015 | Lamp connector O'ring | 2 |
| 3 | E130426 | 40W UV lamp | 1 |
| 3 | E130427 | 75W UV lamp | 1 |
| 4 | 440422251 | 25 lamp adaptor | 2 |
| 5 | 111030021 | Quaatz O'ring(d24.8X?5.2) | 2 |
| 6 | E130432 | Quartz Tube for 45W/70W | 1 |
| 7 | E190201 | Pipe connection 2? | 2 |
| 8 | 620125430 | Adaptor | 4 |
| 9 | 620062251 | 25Cross | 2 |
| 10 | 111142482 | Connector O'ring | 2 |
| 11 | 430221017 | Transpar lid | 2 |
| 12 | 111202472 | UV body O'ring(D76*?6) | 2 |
| 13 | 620165430 | Body connection | 2 |
| 14 | 430170986 | Union Nut | 2 |
| 15 | 620145462 | Stainless Steel body | 1 |
| 16 | E130404 | Closed pipe clips | 2 |
| 17 | E130410 | UV40T ballast | 1 |
| 17 | E130411 | UV75T ballast | 1 |
| 18 | E130407 | Earth Connexion | 1 |
| 19 | 620135460 | Cap | 1 |
| 20 | 430170635 | Union Nut 1.5? | 1 |
| 21 | 105021259 | Plug lead | 1 |
| 22 | 430300943 | 1.5" union (Imperial/Metric) | 2 |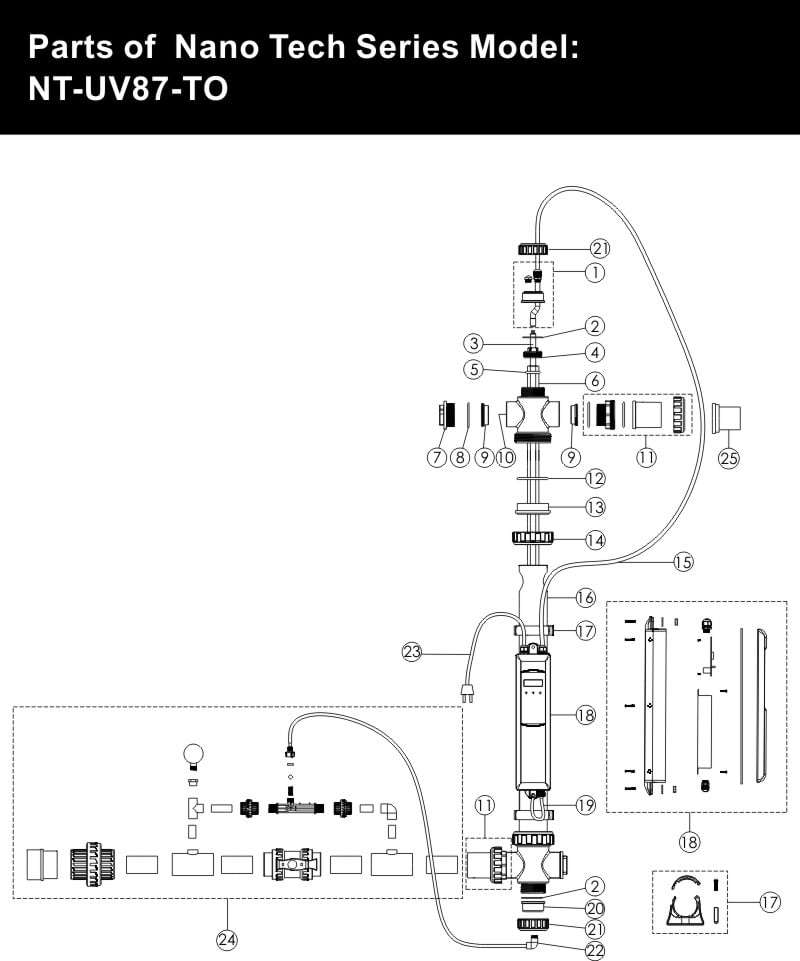 | Key No. | Part No. | Description | Piece(s) Required |
| --- | --- | --- | --- |
| 1 | E130424 | End Cap for Double Hole With Expoxy | 1 |
| 2 | 111040015 | Lamp connector O'ring | 2 |
| 3 | E130428 | 87W UV lamp | 1 |
| 4 | 440422251 | 25 lamp adaptor | 2 |
| 5 | 111030021 | Quaatz O'ring(d24.8X?5.2) | 2 |
| 6 | E130431 | 87W Quartz Tube | 1 |
| 7 | 430221017 | Transpar lid | 2 |
| 8 | 111142482 | Connector O'ring | 2 |
| 9 | 620125430 | Adaptor | 4 |
| 10 | 620062251 | 25Cross | 2 |
| 11 | E190201 | Pipe connection 2? | 2 |
| 12 | 111202472 | UV body O'ring(D76*?6) | 2 |
| 13 | 620165430 | Body connection | 2 |
| 14 | 430170986 | Union Nut | 2 |
| 15 | 105004779 | Cable | 1 |
| 16 | 620145462 | Stainless Steel body | 1 |
| 17 | E130404 | Closed pipe clips | 2 |
| 18 | E130402 | UV87-TO ballast | 1 |
| 19 | E130407 | Earth Connexion | 1 |
| 20 | 620135467 | Air hole Cap | 1 |
| 21 | 430170635 | Union Nut 1.5? | 1 |
| 22 | 108275466 | Gas Nozzle | 1 |
| 23 | 105021259 | Plug lead | 1 |
| 24 | E130403 | Oxidation Set | 1 |
| 25 | 430300943 | 1.5" union (Imperial/Metric) | 1 |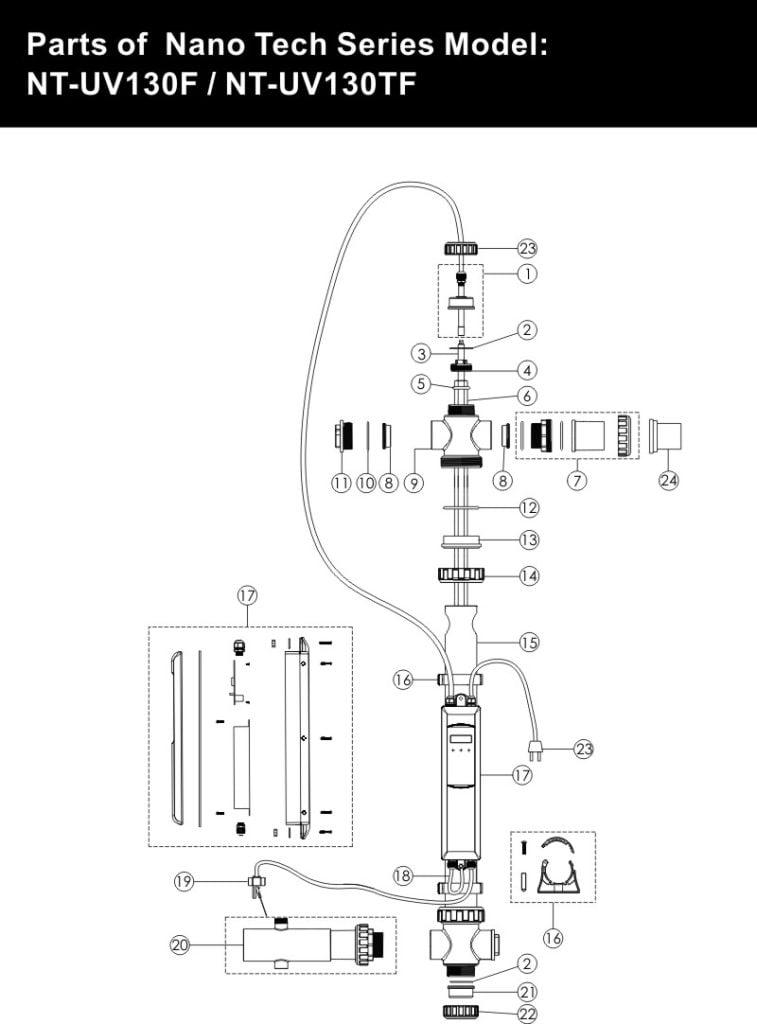 | Key No. | Part No. | Description | Piece(s) Required |
| --- | --- | --- | --- |
| 1 | E130423 | End Cap for Cable Hole With Expoxy | 1 |
| 2 | 111040015 | Lamp connector O'ring | 2 |
| 3 | E130429 | 130W UV lamp | 1 |
| 4 | 440420156 | 31 lamp adaptor | 2 |
| 5 | 111030020 | Quaatz O'ring(d30X?6) | 2 |
| 6 | E130430 | Quartz Tube for 130W | 1 |
| 7 | E190201 | Pipe connection 2? | 2 |
| 8 | 620125430 | Adaptor | 4 |
| 9 | 6200060156 | 31Cross | 2 |
| 10 | 111142482 | Connector O'ring | 2 |
| 11 | 430221017 | Transpar lid | 2 |
| 12 | 111142482 | UV body O'ring(D76*?6) | 2 |
| 13 | 620165430 | Body connection | 2 |
| 14 | 430170986 | Union Nut | 2 |
| 15 | 620145462 | Stainless Steel body | 1 |
| 16 | E130404 | Closed pipe clips | 1 |
| 17 | E130413 | UV130-F ballast | 1 |
| 17 | E130412 | UV130-TF ballast | 1 |
| 18 | E130407 | Earth Connexion | 1 |
| 19 | 114145332 | Flow Switch | 1 |
| 20 | E130434 | Pipe Fittings | 1 |
| 21 | 620135460 | Cap | 1 |
| 22 | 430170635 | Union Nut 1.5? | 1 |
| 23 | 105021259 | Plug lead | 1 |
| 24 | 430300943 | 1.5" union (Imperial/Metric) | 1 |