E-Lumen X Underwater Light - "QUARTZ(EM)" SERIES
For installation with inlet nozzles
E-Lumen X Underwater Light -"QUARTZ(EM)"SERIES
For installation with inlet nozzles
HIGH ADAPTABLE WALL-CONDUIT POOL LIGHT
The Quartz (EM) lights has the same advanced features as E-Lumen X. The inlet nozzle screw-in design for wall conduit and fitting is adaptable for different pool installation options.
Waterproof Standard: IP68
Cable: 2.5m
Installation: Concrete Wall Mount / Retrofit Concrete Niche / Fiberglass / Vinyl Pool
Material: Plastic ABS/Stainless Steel/Transparent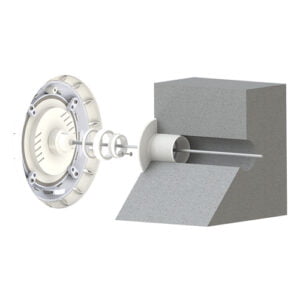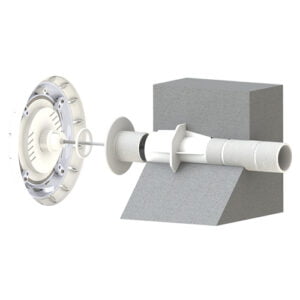 Concrete Pool with Conduit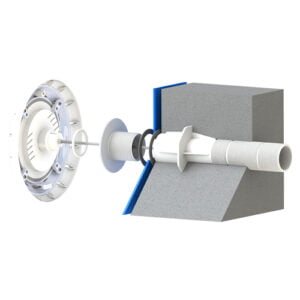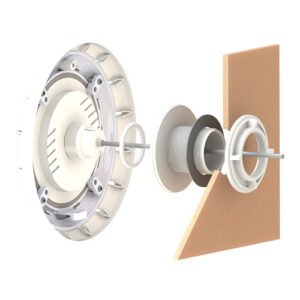 Vinyl Pool Fiberglass Pool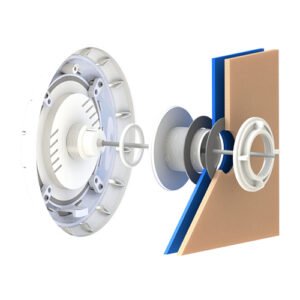 TRUE COLOR RGB WITH WARM WHITE AND COOL WHITE LED
The light incorporates five basic colors of LED chips: cool white, warm white, red-green-blue (RGB), with high power and constant color rendering over time and temperature.

Equipped with state-of-the-art LED technology, E-Lumen X ensures increased energy and luminous efficacy achieving 80 lumens per watt.

LED life exceeds 40,000 hours.

The innovative design of the diffusion lens and bulb matrix provides exceptional reflection, brightness, throw, and angle of illumination.

The perforations on the face ring contribute to the light intensity and angle of illumination by allowing a light penetration throughout.

Self determined operation mode with or without ColorTouch controller.

Automatic color synchronization among lights and zone.


E-lumen X Quartz EM Series User Manual (English)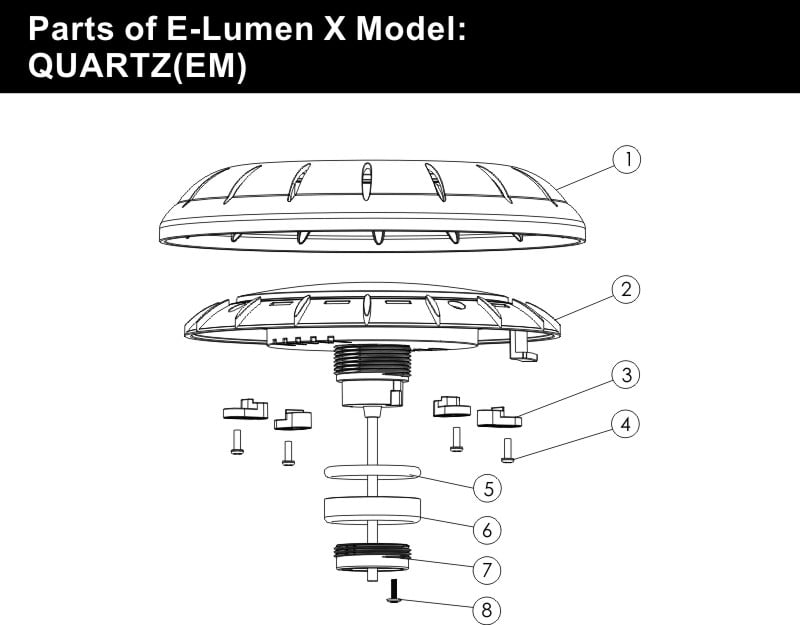 | Key No. | Part No. | Description | Piece(s) Required |
| --- | --- | --- | --- |
| 1 | 440256797 | White face ring | 1 |
| 1 | 440256797 | Grey face ring | 1 |
| 1 | 440256797 | Blue face ring | 1 |
| 1 | 440256797 | Transparent face ring | 1 |
| 1 | 440536797 | Stainless face ring | 1 |
| 2 | E042601 | 20 LEDs Panel 25W Color E-Lumen X(EM) | 1 |
| 3 | 440526797 | Fastener | 4 |
| 4 | 03011364 | M4*12 Flat head self-tapping screw | 4 |
| 5 | 111040072 | O-Ring (vinyl pool/concrete pool) | 1 |
| 6 | 111040073 | Rubber Mat(concrete pool) | 1 |
| 7 | 440650004 | Fitting(concrete pool) | 1 |
| 8 | 112010112 | Screw M3X12(concrete pool) | 1 |