For residential and semi-commercial pools
For residential and semi-commercial pools
AUTOMATIC SALT CHLORINATOR WITH PH CONTROL & DOSING
Salt chlorinated pools are among the best to enjoy and offer comfortable bathing, but such systems tend to raise pH. The Emaux SSC-one takes the guesswork out of adding the chemicals: its dosing pump injects acid to automatically maintain the correct pH level, and its cell takes care of the chlorine production. Programmed automatically and using the best quality of salt, no harmful by products are produced. One of the most technically advanced and user friendly salt water chlorinators on the market.
Timer for pump and programmable cell control.

Direct power function.

Boost button for super chlorination at 100% power for 24 hours.

Visual pH reading, and easy set-up.

Capacitive touch buttons control panel.

Switch reverse polarity at every 4 or 8 or 12 hours to minimise cell scaling depending on water hardness.

Fully automatic or manual operation.

Winter mode reduces power to 50%.

SSCone Salt Chlorinator User Manual (English)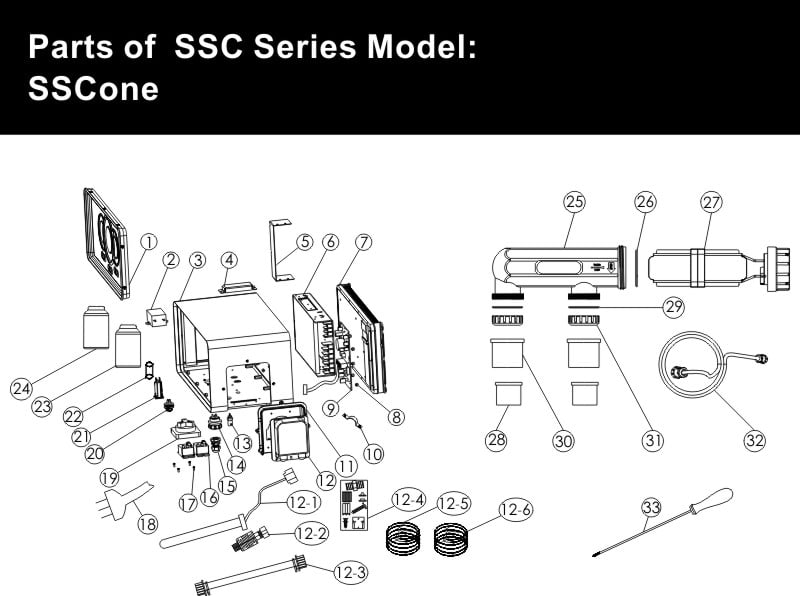 | Key No. | Part No. | Description | Piece(s) Required |
| --- | --- | --- | --- |
| 1 | E130018 | SSCone Lid with Touch Panel | 1 |
| 1 | 112222741 | Screw M2.5*10(for SSCone lid) | 14 |
| 2 | 106090003 | Filter | 1 |
| 2 | 112222675 | Screw M4*8(for filter) | 2 |
| 3 | 530185745 | Casing | 1 |
| 4 | 530176754 | Exhaust Cover for casing | 1 |
| 4 | 112222674 | Screw M4*6(for Exhaust Cover) | 2 |
| 5 | 530176837 | Exhaust Cover for SMPS | 1 |
| 5 | 112222674 | Screw M4*6 (for Exhaust Cover) | 4 |
| 6 | 106326825 | Switch Mode Power Supply(SMPS) | 1 |
| 6 | 112000040 | Screw M4*12(for SMPS) | 4 |
| 7 | 530105745 | Bottom Casing | 1 |
| 7 | 112000037 | Screw M4*60B(for Bottom Casing) | 2 |
| 7 | 112232645 | Screw M4*14(for Bottom Casing) | 12 |
| 8 | 178497 | Nylon Column M3*5 | 6 |
| 9 | E130019 | PCB with 4 pins cable (with thermal pad) | 1 |
| 9 | 112222742 | Screw M3*10(for PCB) | 6 |
| 10 | 420180886 | Cable Clip | 1 |
| 10 | 112222675 | Screw M4*8(for Cable Clip) | 2 |
| 11 | 540005780 | Bottom lid of dosing pump | 1 |
| 11 | 112000036 | Screw M2.5*10(for Bottom lid of dosing pump) | 6 |
| 12 | 3168390001 | Dosing Pump (with pH Probe and accessories 12-1 to 12-6) | 1 |
| 12 | 178503 | pH Probe | 1 |
| 12 | 178504 | Probe Cover | 1 |
| 12 | 178505 | Tube | 1 |
| 12 | 178506 | Dosing accessories pack | 1 |
| 12 | 178507 | Suction Tube | 1 |
| 12 | 178508 | Discharging Tube | 1 |
| 12 | 3169500001 | Dosing Pump Only (without accessories) | 1 |
| 13 | 1062670003 | pH socket (BNC) | 1 |
| 14 | 106481502 | SP Power Point | 2 |
| 15 | 106234778 | PG9 Cable lock | 1 |
| 15 | 112222675 | Screw M4*8(for PG9 cable lock) | 2 |
| 16 | 106090002 | Relay | 2 |
| 16 | 112222675 | Screw M4*8(for Relay) | 4 |
| 17 | 112000021 | Screw M4*10(for earth cable) | 1 |
| 18 | 105021259 | Cable with Euro Plug | 1 |
| 18 | 105011249 | Cable with Australia Plug | 1 |
| 18 | 105061272 | Cable with USA Plug | 1 |
| 19 | 106116849 | Euro Power Socket | 1 |
| 19 | 106116848 | Australia Power Socket | 1 |
| 19 | 106116847 | USA Power Socket | 1 |
| 19 | E130026 | Screw M4*16(for power socket) | 4 |
| 20 | 106486840 | Pool Cover Socket | 1 |
| 20 | 106486851 | Pool Cover contact | 1 |
| 21 | 106306844 | Overcurrent Protector | 1 |
| 22 | 106090006 | Ferrite | 3 |
| 23 | 109007168 | Buffer Solution pH4 (50ml) | 1 |
| 24 | 109007167 | Buffer Solution pH10 (50ml) | 1 |
| 25 | 530040442 | Cell Housing | 1 |
| 26 | 111192492 | O-Ring for Housing | 1 |
| 27 | 8050019 | Replacement Cells for SSC25 & SSC50 | 1 |
| 28 | 1171155 | 1.5" Union(A/E) | 2 |
| 29 | 111202472 | O-Ring for Union | 2 |
| 30 | 430300989 | 2.0" Union (A/E) | 2 |
| 31 | 430170991 | 2.0" Union Nut | 2 |
| 32 | 9130021 | Salt Chlorinator Cable Set | 1 |
| 33 | 178512 | 3x200 Screw knife | 1 |