Super Power Variable Speed Pump
For residential pools and water features
For residential and semi-commercial pools
Emaux Super-Power Variable Speed Pump reduces the energy use of your pool, spa, and water features. Thanks to its higher efficiency, it eliminates over-usage and reduces equipment maintenance costs.
Compared to the Emaux Super-Power Variable speed pump, traditional single-speed pumps run continuously and inefficiently at maximum load incurring high running costs. Reduced speed provides slower water circulation rates and puts less strain on the complete installation such as filter, sanitization, and plumbing. It reduces the wear-and-tear factor ending in significant savings for the pool owner.
Permanent Magnet Motor ( PMM ), Totally Enclosed Fan Cooled ( TEFC)

Pump casing ABS + glass fiber, Impeller PPO, Strainer basket and base in PP + Glass fiber

Motor shaft – S.S.316, Seals bellows – EPDM, stationary face – SIC, rotating face – Graphite, Spring – S.S.316

Super quiet operation when running at low RPM mode

Designed and constructed to maximize
the pump's hydraulic performance

IPX 5 Waterproof Standard
Emaux Super-Power Variable Speed Pump uses the latest Permanent Magnet Motor (PMM) technology, which produces a magnetic field between the rotor and windings. The energy-saving is derived from the ability to reduce the RPM of the motor itself. A standard motor consumes electricity to induce the magnetic field into the rotor. On the other hand, a permanent magnet motor gains efficiency by the magnets working on spinning the rotor, achieving an energy cost saving of up to 80%.
The design of (Totally Enclosed Fan Cooled) TEFC Motor also increases the reliability and durability for use in all weather conditions. The AISI316 stainless steel motor shaft and shaft seal also ensure reliability and compatibility with saltwater pools.
One touch controller – total control at your finger tips. Pre-set speed programs and schedules, offer the most efficient pool, spa, or any connected water feature.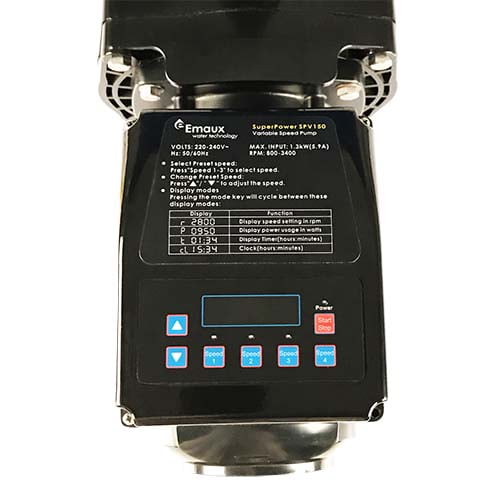 New Connectivity and External Smart Control
Wi-Fi Direct (AP mode) or Home Network STA Mode
RS485 communication port
1. IEEE802.11, 2.4GHz, b/g/n
2. Internal antenna, open area 25m
3. Data throughput 300Mbits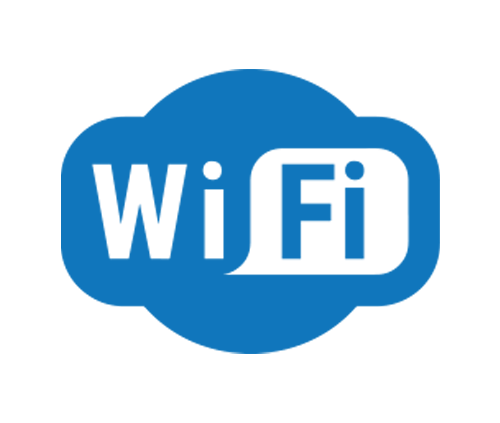 1. Enables connecting a master (PC) and  several slaves (EPV or SPV Pumps).
2. RTU over RS485 communication port
3. Support all standard Modbus protocal equipment
4. Isolated AB data bus
5. Max Baud Rate 9600bps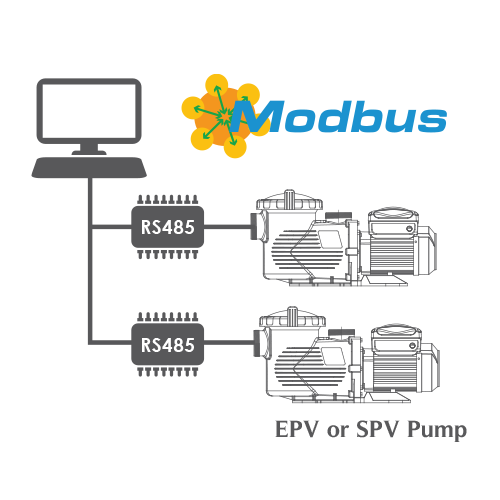 Super Power Variable Speed Pump User Manual (English)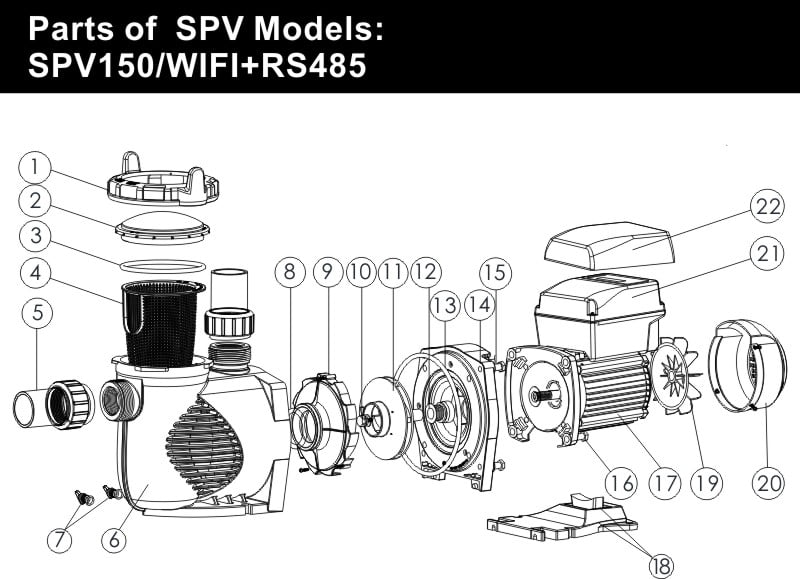 | Key No. | Part No. | Description | Piece(s) Required |
| --- | --- | --- | --- |
| 1 | 01021143 | Nut For Lid | 1 |
| 2 | 01041057 | Transparent Lid | 1 |
| 3 | 02010253 | O-Ring For Lid | 1 |
| 4 | 01112080 | Basket | 1 |
| 5 | 89023801 | 1.5" Union | 2 |
| 6 | 01021144 | Pump body | 1 |
| 7 | 89021307 | Drain Plug With O-ring | 2 |
| 8 | 02010245 | O-Ring for Diffuser | 1 |
| 9 | 01112081 | Diffuser | 1 |
| 10 | 89020719 | Screw for impeller with O-ring | 1 |
| 11 | 01311058 | Impeller For SPV150 & EPV150 | 1 |
| 12 | E020001 | 3/4?Mechanical seal (EPH/EPV/SPH/SPV) | 1 |
| 13 | 02010246 | O-Ring for Flange | 1 |
| 14 | 01021145 | Flange | 1 |
| 15 | 89020720 | M8*35 Screw with Washer For Motor | 4 |
| 16 | 112192685 | M8*30 Screw | 4 |
| 17 | 04020140 | SPV150 TYC-71L Motor | 1 |
| 18 | 01112082 | Base | 1 |
| 18 | 02010211 | Arch Cushion for Base | 1 |
| 19 | 01031027 | Fan | 1 |
| 20 | 01321032 | Fan Cover | 1 |
| 21 | E023803 | Programmable Controller for SPV150-RS485 (without plug) | 1 |
| 21 | E023804 | Programmable Controller for SPV150-RS485-WiFi (without plug) | 1 |
| 22 | 01041061 | Transparent Lid for Programmable Controller | 1 |