For above-ground pools and residential pools
For above-ground pools and residential pools
Easy installation with pre-installed plumbing system and base, "FSP" Series filtration combo offers the right solution for a home user who is looking for user-friendly and excellent filtration performance. "FSP" Series Filtration Combo includes top mount UV resistant plastic filter tank, 4 or 6-way multiport valve, swimming pool pumps attached to the base.
FSP Series Filtration Combo includes
Durable top mount plastic filter tank
4 or 6 -Way Multiport Valve
SS Series Pump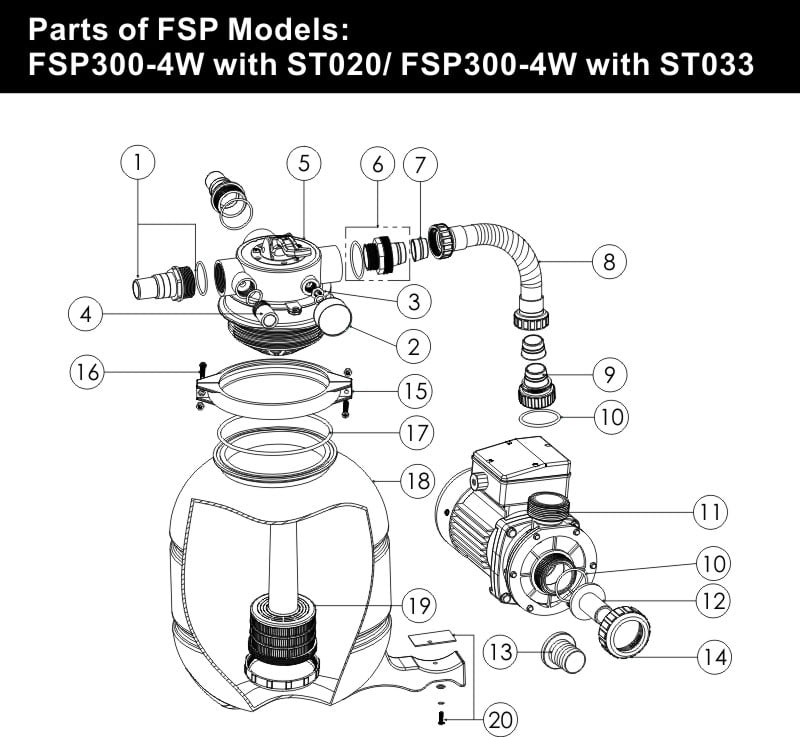 Please provide a valid CSV file.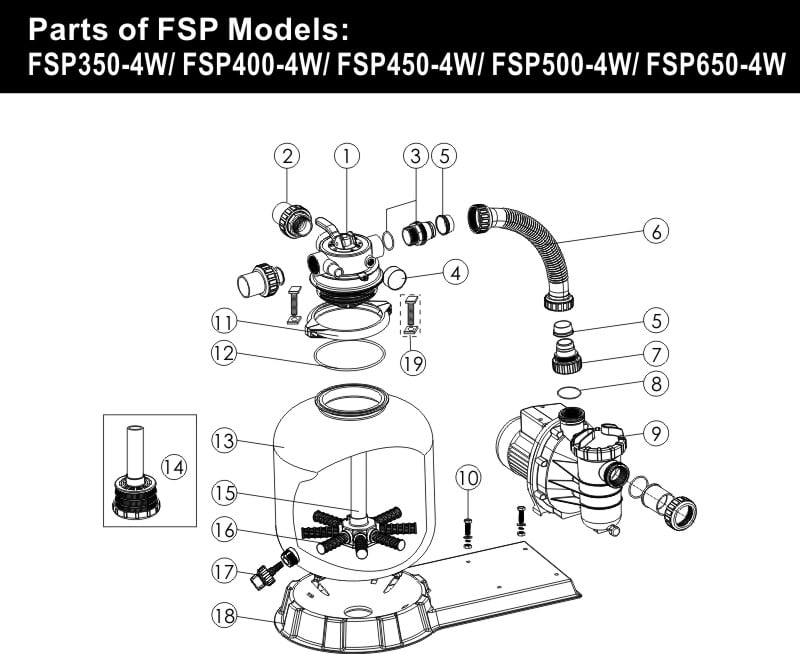 | Key No. | Part No. | Description | Piece(s) Required |
| --- | --- | --- | --- |
| 1 | 88281205B | 1.5"-4Way Top Mount Valve (Black/ White Colour) | 1 |
| 2 | 89280102 | 1.5" Union Set With O-Ring (Black/ White Colour) | 1 |
| 3 | 89030204 | Hose adaptor with O-Ring | 1 |
| 4 | 06021001 | Plastic Pressure Gauge with O-Ring (35psi) | 1 |
| 4 | 01111048 | Connector for pressure gauge/stopper | 1 |
| 5 | 02011026 | Sleeve for Hose | 2 |
| 6 | 89030301 | FSP350-4W Plastic Hose with Nut | 1 |
| 6 | 89030401 | FSP400-4W Plastic hose with Nut | 1 |
| 6 | 89030501 | FSP450-4W Plastic hose with Nut | 1 |
| 6 | 89030601 | FSP500-4W Plastic hose with Nut | 1 |
| 6 | 89030701 | FSP650-4W Plastic hose with Nut | 1 |
| 7 | 01013049 | Hose adaptor with nut | 1 |
| 8 | 02011104 | O-Ring for 1.5" Union | 1 |
| 9 | 88022401 | Pump 0.20hp, 220V/50Hz, Single Phase | 1 |
| 9 | 88022402 | Pump 0.33hp, 220V/50Hz, Single Phase | 1 |
| 9 | 88022403 | Pump 0.50hp, 220V/50Hz, Single Phase | 1 |
| 9 | 88022404 | Pump 0.75hp, 220V/50Hz, Single Phase | 1 |
| 9 | 88022405 | Pump 1.00hp, 220V/50Hz, Single Phase | 1 |
| 10 | 89032001 | Pump Assembly Screw | 2 |
| 11 | 01271010 | Clamp Lock | 2 |
| 12 | 02011134 | O-Ring for Filter Neck | 1 |
| 13 | 01331005 | P350 Filter Tank | 1 |
| 13 | 01331006 | P400 Filter tank | 1 |
| 13 | 01331007 | SP/P450 Filter tank | 1 |
| 13 | 01331008 | SP/P500 Filter tank | 1 |
| 13 | 01331010 | SP/P650 Filter tank | 1 |
| 14 | 89011602 | P350 Lateral Assembly with Center Pipe | 1 |
| 15 | 89011603 | P400 Lateral Assembly with Center Pipe | 1 |
| 15 | 89011604 | P450 Lateral Assembly with Center Pipe | 1 |
| 15 | 89011605 | P500 Lateral Assembly with Center Pipe | 1 |
| 15 | 89011606 | P650 Lateral Assembly with Center Pipe | 1 |
| 16 | 01172007 | Laterals(115mm) | 8 |
| 16 | 01172008 | Laterals (126mm) | 8 |
| 17 | 89011601 | Water Drain Set | 1 |
| 18 | 01111056 | FSP/F350-4-6W Combo Base | 1 |
| 18 | 01111053 | FSP/F400-6W - FSP/F650-6W Combo base | 1 |
| 19 | 89010119 | M6*50 Screws With Nut | 2 |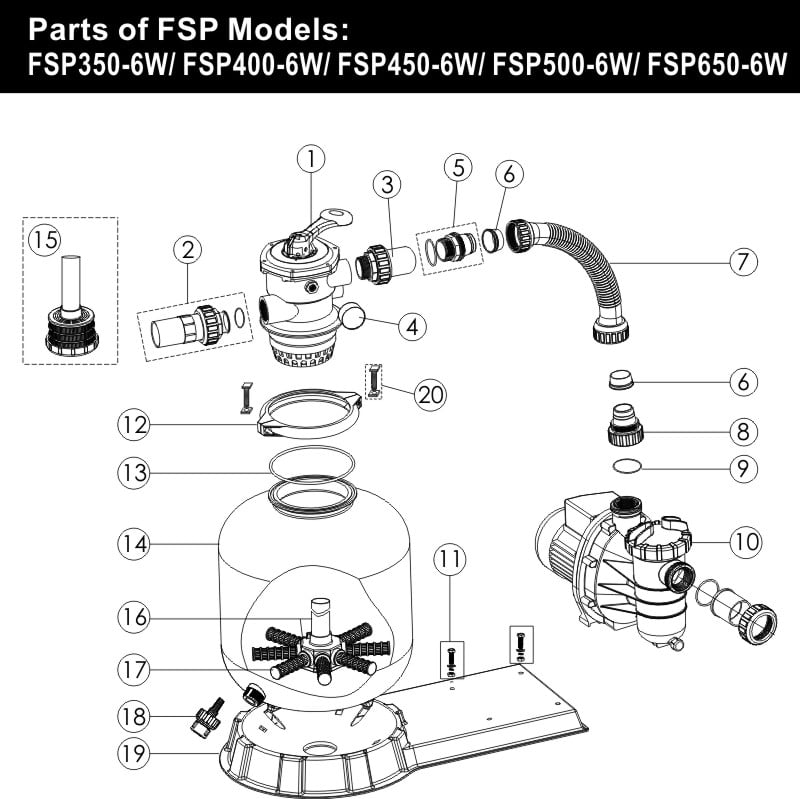 | Key No. | Part No. | Description | Piece(s) Required |
| --- | --- | --- | --- |
| 1 | 88280105B | 1.5" Top Mount Valve (Black Colour) | 1 |
| 2 | 89280101 | 1.5" Union with Sight Glass,O-Ring (Black/ White Colour) | 1 |
| 3 | 89280102 | 1.5" Union Set With O-Ring (Black/ White Colour) | 1 |
| 4 | 06021001 | Plastic Pressure Gauge with O-Ring (35psi) | 1 |
| 4 | 01111048 | Connector for Pressure Gauge/ Stopper | 1 |
| 5 | 89030204 | Hose Adaptor with O-Ring | 1 |
| 6 | 02011026 | Sleeve for Hose | 2 |
| 7 | 89031501 | FSP350-6W Plastic Hose with Nut | 1 |
| 7 | 89031601 | FSP400-6W Plastic Hose with Nut | 1 |
| 7 | 89031701 | FSP450-6W Plastic Hose with Nut | 1 |
| 7 | 89031801 | FSP500-6W Plastic Hose with Nut | 1 |
| 7 | 89031901 | FSP650-6W Plastic Hose with Nut | 1 |
| 8 | 01013049 | Hose Adaptor with Nut | 1 |
| 9 | 02011104 | O-Ring for 1.5" Union | 1 |
| 10 | 88022401 | FSF350-4W Pump (SS020) | 1 |
| 10 | 88022402 | FSF400-6W Pump (SS033) | 1 |
| 10 | 88022403 | FSP450-6W Pump (SS050) | 1 |
| 10 | 88022404 | FSP500-6W Pump (SS075) | 1 |
| 10 | 88022405 | FSP650-6W Pump (SS100) | 1 |
| 11 | 89032001 | Pump Assembly Screw | 2 |
| 12 | 01271010 | Clamp Lock | 2 |
| 13 | 02011134 | O-Ring for Filter Neck | 1 |
| 14 | 01331005 | P350 Filter Tank | 1 |
| 14 | 01331006 | P400 Filter tank | 1 |
| 14 | 01331007 | SP/P450 Filter tank | 1 |
| 14 | 01331008 | SP/P500 Filter tank | 1 |
| 14 | 01331010 | SP/P650 Filter tank | 1 |
| 15 | 89011602 | P350 Lateral Assembly with Center Pipe | 1 |
| 16 | 89011603 | P400 Lateral Assembly with Center Pipe | 1 |
| 16 | 89011604 | P450 Lateral Assembly with Center Pipe | 1 |
| 16 | 89011605 | P500 Lateral Assembly with Center Pipe | 1 |
| 16 | 89011606 | P650 Lateral Assembly with Center Pipe | 1 |
| 17 | 01172007 | Laterals (115mm) for P/V400-P/V450 | 8 |
| 17 | 01172008 | Laterals (126mm) for P/V500-P/V650 | 8 |
| 18 | 89011601 | Water Drain Set | 1 |
| 19 | 01111056 | FSP/F350-4-6W Combo Base | 1 |
| 19 | 01111053 | FSP/F400-6W - FSP/F650-6W Combo base | 1 |
| 20 | 89010119 | M6 x 50 Screws with Nut | 2 |